Flying Start Package
This is the first step towards gaining a Private Pilot Licence or gaining a Commercial Pilot Licence or indeed a Pilot Supports Course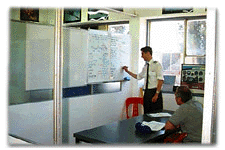 (this would be specifically for spouses or regular passengers who would like to know enough to be able to handle the plane if a single Pilot became disabled during flight and increases the level of confidence of being a passenger).
Flying Start Program is $2,000 and for this you get the following:
A complete Private Pilot Licence theory course on CD ROM.
10 flight lessons of 50 minutes in the air duration (please allow around 1 hour 15 minutes for each of these lessons due to pre-flight check out of the aircraft, etc).
Private Pilot Licence medical examination.
Student Pilot Licence.
Pre-solo Air Legislation examination.
Handling notes for the particular aircraft you are flying.
All the hours are counted and will be able to be used by you in any further training towards a Private, Commercial or Airline Transport Pilot Licence if you choose to continue.
Please contact us and we will confirm the times available for you. On receipt of your confirmation of order we will dispatch to you the CD ROM and will book you appropriate times as listed by you.